"You're not here to make a choice," the Oracle tells Neo in
The Matrix Reloaded.
"You're here to understand the choice you've already made."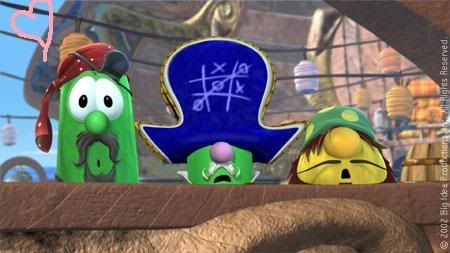 This is to some extent how I parse my own approach to belief. There's no scratch to start from; we're always already formed and shaped by forces we didn't necessarily choose and of which we're not necessarily aware. But I like to know what the not-from-scratch place I'm already at looks like, and I like to have some guesses as to how I've been formed and shaped, so that I might go from there.
That doesn't mean complacent acceptance of that place. Since I'm an academic in the humanities, it's not terribly surprising that I'm constructed as something of a leftist, and I'll own a lot of that. My disdain for capitalism is visceral, and my love of critique lends itself well to an interest in anarchism. Plus, today's right makes it easy by being batshit crazy. But I'm not entirely comfortable being on a "side," and I'm leery of those moments when I'm not sure if I'm landing somewhere because it's consistent with the rest of my thinking or if I just end up there because go team.
What I wrote about Yoder in the last post comes at a time when I was already in the desert, which is to say I'm once again questioning my commitment to the Christian story, or at least to one way of telling it. And here's why: the political theology I've been constructing, which is strongly informed by Yoder's, presupposes a certain kind of community, and at the end of the day I don't really want to be a part of that kind of community. Hypocrisy, thy name is Ted.
There's a
Veggie Tales
song called "The Pirates Who Don't Do Anything" in which the show's characters are dressed in pirate costumes and lounging on recliners. The chorus goes "We are the pirates / who don't do anything / We just stay home / and lie around..." and the verses consist of lists of pirate-y things they're not doing. You probably had to be there, which means you had to be an evangelical in the 90s.
And it's like I'm the Leftist Who Doesn't Do Anything. I don't protest. I don't go to rallies. I don't post anarchist propaganda on my Facebook wall. I don't even return phone calls from my union rep. I don't want to live in an anarcho-communist collective and as much as I like my anarchist friends, large groups of them make me uncomfortable. Kind of like Christians.
To put a finer point on it: the theopolitics I've been working out to the point of planning a book on it would, if I were to
live
it out, involve starting or being a part of an ecclesial community far more "radical" than my current church. A collective of some kind, even a commuune. Conceptually, I really think it works -- but there's no way in hell I'm doing it. See the tension here? Something doesn't add up. I'm
intellectually
excited by what's possible, but I'm not holistically into it. Is it conviction or courage that I lack?
Some of it has to do with my desire to inhabit the life I'm actually living -- to understand the choices I've already made. My wife is not interested in any of this. We just bought a house, and she's looking forward to a life of gardening and reading books and petting the cat. "Radical community" is not on her radar. I'm not sure I blame her. Living with me, our four kids, and her mother is radical enough.
Neither is she a pacifist (actually, she's a black belt), and to be honest I don't have a problem with that. Her involvement in the martial arts has been remarkably life-giving, and I'm loath to cast any aspersions on it. It's not just that marriage involves compromise, but that I see her as one of my teachers.
So, given the choice between consistent Christian discipleship in the vein of my theological project and a happy marriage, I'm going with the marriage. Yes, that's a horrible reduction, one that I'm employing as a heuristic. That's not
really
the choice. But it says something about me that in the face of cognitive dissonance between what I'm intellectually prepared to believe and what I'm prepared to
live like
I believe, I'm just as likely to question the belief itself. It's a little playing eeny-meeny-miny-mo to make a difficult decision only to realize that you're ganking the game for a certain outcome. You just told yourself what you really think.
This pertains to the Yoder situation in a couple of ways, I think. For one, I was probably particularly receptive to Alexis-Baker's comments because I was already having some reservations about where I was taking Yoder. That may not be entirely fair, but I maintain that Alexis-Baker has a point. As I've told a couple of people, it's not that he's got it exactly right so much as I don't think he's got it exactly wrong.
More significantly, it's telling that my inclination is to move away from projects that rely on Yoder and be done with him. I don't think Yoder studies should be abandoned; on the contrary, it looks like there's even more work to be done. That I don't really want to do it, coupled with my observations above,
might
mean that I'm not really that committed. I'm a fair-weather friend even to some of my pet projects.
It's also a warning that my methodology has been off: I was trying to hang all of my own interest in Christianity (also part of the life I'm actually living) on this tiny sliver of intersection between Yoder's ecclesiology and postnarchist theory, which I'm interested in academically. This is not good, because it makes me too vulnerable to these existential crises. Moreover, just because I understand something intellectually doesn't mean I really believe it. I live so much in my head it's easy to get that confused.
I've got my own work to do, and I'm trying to start with the observation that a lot of the things I'm interested in -- pacifism, anarchism, even nihilism -- are interesting to me more as
critiques
than anything else. Maybe that's just a cop-out, a cover for a failure of nerve. I'll ponder that. I'm not giving up on faith, or anarchist theory, or even Yoder. I need to reorganize my thinking, and be honest about where I'm willing to go. But that also means remaining open to critique myself.
They can't all be choices we're just trying to understand. At some point, we have to make new ones to understand later.